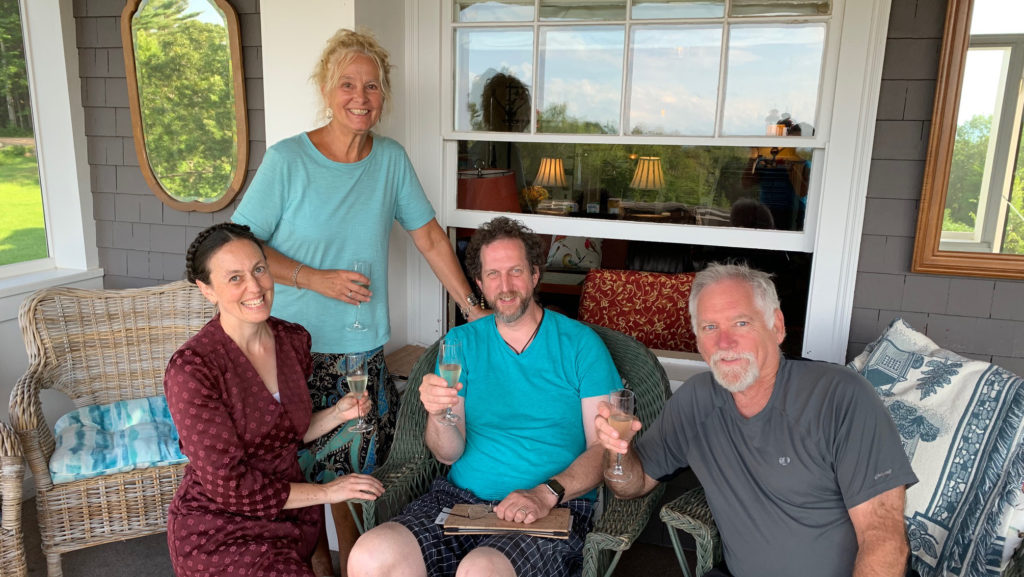 We're so glad you've found your way to our website, the person/search engine who directed you here has really good taste. We make the highest quality historical canvas tents in the United States. Whether you're a reenactor, history site, trekker, primitive camper, or your own unique type of person, we'd love to make you a shelter that will keep you comfortable and safe on all your adventures. And we'll make it exactly the way you want it because all of our tents and tarps are made to order. We want to have a conversation with you before we put in the first stitch to make sure all your needs will be met. You'll be making memories under our canvas, we take our responsibility for your shelter very seriously.
Tentsmiths was started by Peter & Deborah Marques in 1983 when Peter made his first tipi for them to use at rendezvous events in the White Mountains of New Hampshire. The story goes that he made his second in trade for a musket, but by the time he'd made a few more, he didn't need anything else in trade, so he started selling them. He branched out from there into other types of historical tents, and people he met kept asking for more. Both Peter and Deborah felt strongly that the tents they were making needed to be of the highest quality; their friends, neighbors, and fellow reenactors were sleeping under these tents! Deborah made friends with those who were not yet friends, and Peter put his engineer brain to work on every single historical design. And people kept ordering more tents! Deborah & Peter raised their kids in the community, made their living on tents, and welcomed grandkids into the world while making the highest quality canvas shelters out there. 36 years is a lot of time to be making tents, so in the spring of 2019 they announced their retirement and many of us in the community were devastated.

One evening while catching up on Facebook Alena Shellenbean saw the Marques' retirement announcement and immediately made sure that Stephen Shellenbean saw it too. Unfortunately at the time Alena was at a reenactment in Virginia and Stephen was at martial arts training in Vermont, but when they were both back at home in New Hampshire each had independently decided that Tentsmith was too important to close its doors, and that they were up for the adventure of making historical tents! The Shellenbeans spent the spring getting to know the Marques and convincing them that they would care for Tentsmiths and for their customers with the same level of devotion. Stephen spent the summer learning from Peter and Alena spent her time with Deborah, and in August 2019 the Shellenbeans became the owners of Tentsmiths. Our hope is that we will continue to provide the living history community with best canvas tents and tarps for many years to come. We're already a part of your community but now we can give back, and raise the next generation of Tentsmiths kids among you.

We've set up shop in an old mill in New Hampshire not too far from the seacoast, and we will still make every tent to order, to suit your individual needs. Let us know all about your adventures by email, social media, phone or in person. As we attend events we'll introduce ourselves to Tentsmith tent owners and event set up as vendors at a few events. Back here at the mill we're happy to have visitors, give us a call first to make sure we're not on the road on our way to an event!